Suddenly emerged from nowhere with the devastating "No More Peace", a mix of metalpunk and d-beat that leaves no way out, Nukke are undoubtedly one of the most interesting projects of the whole hardcore and punk scene of the last year. It's not only music though for Nukke, because as Jimmy tells us in the interview : "punk is about politics and not just about having a good time." Enjoy reading and let's keep making punk a threat and a tool against oppression!
Hi Nukke! Let's start with the simplest questions. When and why was the band born? Would you like to give us a short biography?
Hi Disastro Sonoro, Jimmy here from NUKKE. Thank you for taking the time to interview us, we are appreciative of that. the band started whilst me and Hugh were touring with another project of ours and we came to the conclusion that we wanted to play punk together again(we had previously played in a punk band together but both left). We were in Italy, which at the time was the first European country to be struck with COVID, so it felt right to have a band that reflected the dystopic future about to turn present.
"No More Peace," your first record, was definitely one of the most worthwhile and interesting works in d-beat/hardcore punk of all of 2021. Musically and lyrically what influenced you in the composition of the various songs?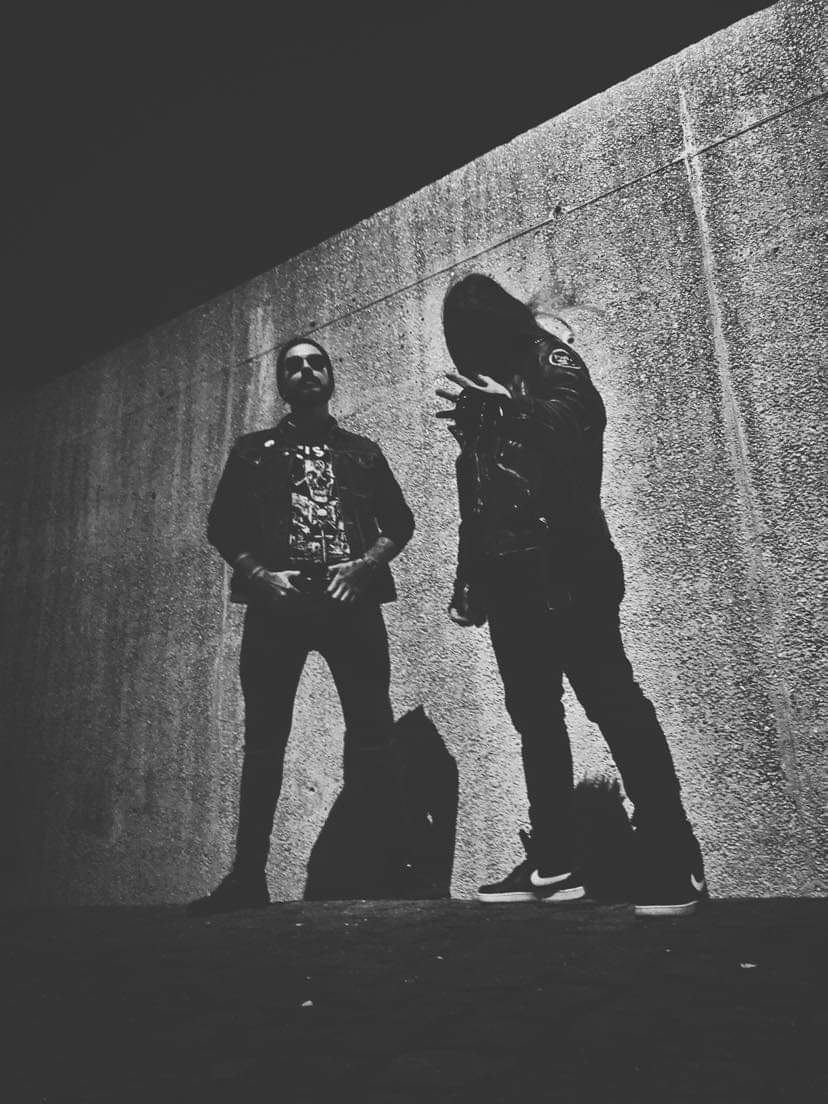 Thank you for the kind words. I wouldn´t consider NUKKE a D-beat band, it sure has a lot of D-beat in it but it´s also very dynamic throughout which is not the case for D-beat bands which stick to the DISCHARGE/DISCLOSE formula. Musically there is a lot of punk and heavy metal intertwined as bands like later ANTI CIMEX/G.I.S.M./BROKEN BONES/ ENGLISH DOGS play a huge inspiration of us. We are also huge metal fans so bands like VENOM, BATHORY or even IMPALED NAZARENE also add up to the sound. That´s why I would think that NUKKE is more of a metalpunk band but with it´s own twist. Lyrically and aesthetically there is no need at all to draw inspiration from anywhere other than the world we ar living in and the collapse that will come in the near future. This is something very real that many seem to ignore. Bands love to talk about war but forget that there is a cold war going on all the time against us through fear and manipulation of the masses.
In a genre like d-beat, perhaps back in fashion in recent years, it seems to have all been said and done already. To an inattentive listening in fact the d-beat seems a genre little inclined to innovations and in which it is increasingly difficult to find personal solutions. What still fascinates you about this genre? What was your approach to d-beat/hardcore punk in life?
As mentioned before we try o add up our influences in a way that is our own and did not set out to sound like the band X or Z. It comes from a very sincere place and the main goal is for us to make music we enjoy listening. In that sense we were able to sound different from the regular bands but you can pinpoint moments in the music that sound familiar at the same time. The artwork was also something that is very unlike the other bands in the genre and that was done with that purpose, to add something "real" and bleak to match the sound. The same approach to our music can be translated to our own lives, to drawn inspiration from what inspires you and make it so that you recicle it into your own bubble of influences intead of straight mimicking what other people do. Thinking for oneself is something that is a cannon to punk and should not be lost.
One question I'd like to ask any band or individuality I have the pleasure of interviewing is this: what does playing hardcore punk in 2021 mean to you? What do you think are the potentialities of a genre like this one that for its nature and history has to do with concepts of rebellion, political struggle and an anti-authoritarian, anti-capitalist and DIY attitude?
It is of the utmost importance to live your life according to those principles especially in a time in which our little freedoms are being taken away with fearful consent. Punk is what opened my eyes to the injustices of this world and it shall remain a conduit for doing so. The message has to be spread and the voices of dissent can´t be silenced.
Within "No More Peace", as per the best d-beat tradition, the anti-militarist theme seems to represent a very important and central part. What does anti-militarism mean for you? What scares you more than the possible current imperialist wars made, as always, in the name of profit?
Our anti-militaristic views and the "war" we write about and stand against is the metaphoric war fought against our minds, as mentioned before. None of us have seen real war, nor every other band that talks about war, but what we know is that war can be silent and we are all victims of this war of fear.
In the last few months I've managed to interview two other great Portuguese bands, Nagasaki Sunrise and fellow friends Corrupted Human Behavior. How is the situation of the DIY hardcore punk scene in Portugal? Which are the realities (collectives, squats, zines, bands) more interesting and with which you have more connections?
NAGASAKI SUNRISE is a great Burning Spirits styled metalpunk band and I´ve known the guys for ages. They work hard and deserve the recognition they are getting, which is something hard for a Portuguese band to do, since we are in the "butt of Europe" we don´t get that much attention. CORRUPTED HUMAN BEHAVIOR is also a great band with a bright future ahead with their hommage to stenchcore that gets more "polished" by the second. Other great bands that come from Portugal and are aiming at the right direction are DISHUMAN(kids playing the sickest D-beat worship), SCATTERBRAINIAC(One-man catchy as hell snotty punk rock), DOKUGA(Legendary Oporto punk hardcore) and ANTINOMIA(fast hardcore for fans of VOID and NO TREND). Please do check these bands out. The scene is a hit or miss sometimes, it doesn´t seem to be in its fullest potential yet. There is a lot of division, elitism and a lot of partying and not enough real discussion and activism. The older generation seems to waste more time discussing who is the "punkest" or has more "punk status" rather that creating ways to educate the younger generation on solving issues. But the younger generation can sure change that. Punk is about politics and not just about having a good time. Period!
Future projects? Are you already working on a new album or are you planning concerts and tours?
We have a new album recorded and is in it´s mixing phase. It´s even more dynamic that "No More Peace" and deals with even more bleak topics. We have some gigs linned up for outside of Portugal and soon we will have some here. Just waiting for all this mess about quarantines to slow down.
Your great debut record was released by D-Takt and Råpunk Records, one of the most active labels in d-beat, raw punk and hardcore. How did you get in touch with them and how did the collaboration for the release of No More Peace come about?
I simply sent an email to Jocke, who is the most dedicated dude ever, stating that we loved the label and wanted to work with him. We love all the bands in there and it would be an honour to share the same "space" as so many great acts. Jocke loved our stuff and there you go!
Dear Nukke we have come to the end of this talk. I'm leaving this space completely up to you to add and write whatever else is on your mind! Thanks again for accepting the interview and spending your time answering my questions!
Thank you once again for the interview and thank you to whoever is reading this because it matters to be hear. Please help make punk political again and a tool against oppression. There are a lot of ways one can act and small changes in our own lifes can make an impact on others. Ask yourself if you are the solution or the problem? What are you contributing to your locals scene? Is it getting better because you are in it? Strive to b the change you want to see in the world and be active! Peace out!